There are many names for mineral casting materials used internationally, among which the most common are as follows:
- Polymer casting
- Mineral casting
- Resin-cement concrete
- Polymer concrete
- Nonmetal synthetic materials
- Machinery polymer composite
Next, we will introduce machinery polymer composite in a Q&A format.
1. Q: What is Machinery Polymer Composite?
A: It is a high-filled composite material formed by using mineral materials such as natural granite particles as the main aggregate and organic resin as a binder.
2. Q: What is Composite?
A: It is a structure that combines two or more different phases of substances, extracting the advantages of each component to form the required structure.

3. Q: What are the main uses of Machinery Polymer Composite?
A: This material is a new type of material popular in the international machinery industry. It can replace traditional cast iron in key parts such as machine tool beds, bases, beams, and columns, improving the stability of machine tools and thereby enhancing machine tool accuracy.
- In the machinery field: milling machines, machining centers, external cylindrical grinding machines, surface grinding machines, tool grinding machines, lathes, electrical discharge machining equipment, boring and grinding machines, laser cutting machines, automatic punching machines, and perforating machines, etc.
- In the measurement field: coordinate measuring machines, gauge blocks, balancing machines, test benches, various types of experimental devices, etc.
- In the semiconductor field: connectors, automatic insertion machines, analysis and inspection equipment, chip (wafer) processing and testing, printed circuit board drilling machines, etc.
4. Q: What are the advantages and disadvantages compared to gray cast iron?
A: Advantages: damping shock absorption, high precision, reduced cost, heat resistance, corrosion resistance, flexible design, and environmentally friendly.
Disadvantages: The compressive and tensile strength of this material is lower than that of gray cast iron, so the mechanical properties of this material directly determine the quality of mineral casting materials.
5. Q: How do the mechanical properties of Nano brand artificial granite compare to gray cast iron?
A: See the figure below.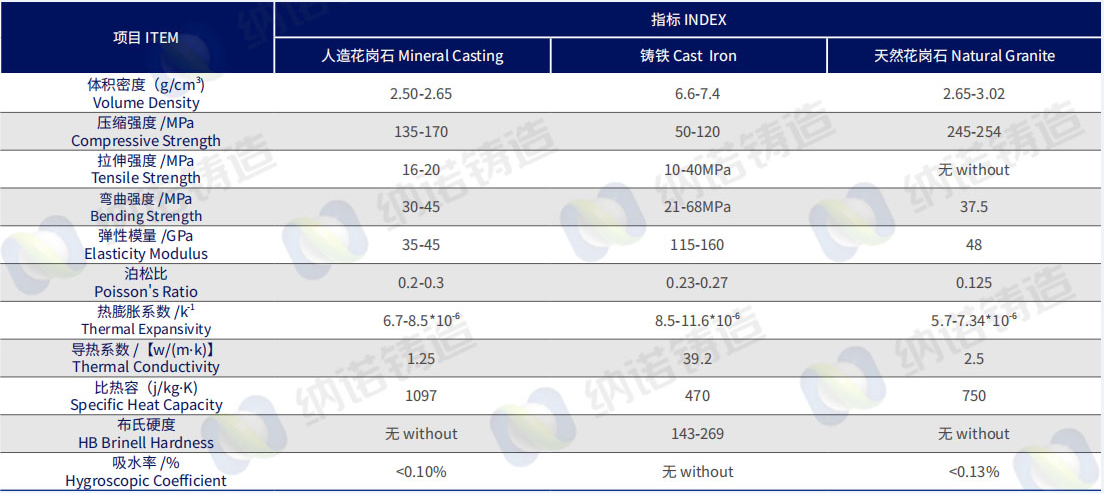 6. Q: How does Nano achieve the best mechanical properties of artificial granite for mechanical use?
A: The mechanical properties of mineral castings are determined by the preparation process, the composition ratio, and the selection of materials. Therefore, it is very important whether the process is scientifically reasonable and whether the material selection meets the requirements of composite material grading. (Click: How much do you know about the risks of mineral castings?)
7. Q: What are the ways to reduce costs in the widespread application of artificial granite for mechanical use?
A: The best way to reduce costs is through concurrent engineering. This means that during the structural design, components related to the machine tool are embedded using the characteristics of mineral castings, eliminating the need for secondary assembly. This can save on secondary precision machining and machining costs, minimize the use of expensive structural materials, integrate complex parts, and reduce the number of system components and assembly time. The absence of aging also accelerates capital turnover and improves capital utilization, resulting in lower overall costs compared to using gray cast iron.
8. Q: Why choose Nano for the use of mineral castings?
A: Our company has been engaged in the processing of natural granite measuring instruments since 1989, giving us a natural advantage in understanding the characteristics of granite and measurement tools, as well as measurement methods. In addition, our mineral casting materials are entirely self-developed, have national patents, and are the national standard setters for mineral castings. With scientifically superior material formulations, advanced German-imported molding equipment, and process control, we ensure the mechanical performance of mineral castings. Many international high-end machine tool industries use Nano mineral castings, and our 30+ years of industry experience ensure that Nano is your most reliable choice!